First posted on echoesanddust.com.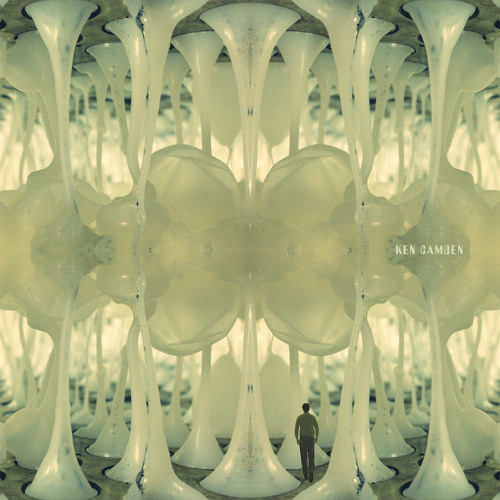 Musician and composer Ken Camden of Implodes, returns with his third solo studio album 'Dream Memory'. The new album sees the musician creating a world of subtle tones, slowly building everything up using an array of instruments and techniques at his disposal. Everything has resulted in an interesting album experience, where lines between ambient, electronic and experimental music are all blurred, everything instead combining effortlessly into one cohesive vision, all packaged and presented in a very strong manner. Though a little inaccessible and unusual in places, 'Dream Memory' offers up some incredibly interesting and emotive musical moments, showcasing some of the best of Camden's abilities.
'Dream Memory' sees Camden really utilizing many of his skills and techniques in order to create an engrossing and interesting album experience. There's many different ideas and concepts being presented on the album, all of which lull the listener into a mysterious and slightly ominous world. Everything feels very textural on the album, with each note feeling rather meticulously placed on the album itself. Although there's a rather dark and unsettling impression given off by most of the tracks on the album, everything still feels beautiful and emotional, with a few tracks coming across as some of the best material Camden has presented thus far.
Camden has pushed out some very nice ideas on his latest solo record, many of which all come together nicely into a cohesive album experience, full of sonic textures and ethereal concepts. At times, certain ideas feel a little disjointed, with somewhat harsh musical elements dominating the tracks instead of the more relaxing and gentle elements that seem to originally establish the album. Whilst this affects the overall album somewhat, it also works in other ways, showcasing a diverse range of ideas and concepts being presented by Camden, instead of similar sounding tracks that suggest little ingenuity.
Although certain elements come across as a little confusing and polarizing, 'Dream Memory' sees Camden creating a wonderful album experience, one where experimental notions and ideas don't run away into areas of inaccessibility, but instead elevate the base ideas being presented. It's arguable that 'Dream Memory' isn't the strongest of Camden's material in his career thus far, though it is one that is deserving of attention. Camden presents a world of intrigue and mystery, one where questions are never answered, but one is left feeling satisfied, if somewhat confused.
Album Rating:
Selected Songs:
Time Bend
Curiosity
Brain Work
Asleep at the Wheel
Ken Camden's latest album 'Dream Memory' is out now on Kranky Records.